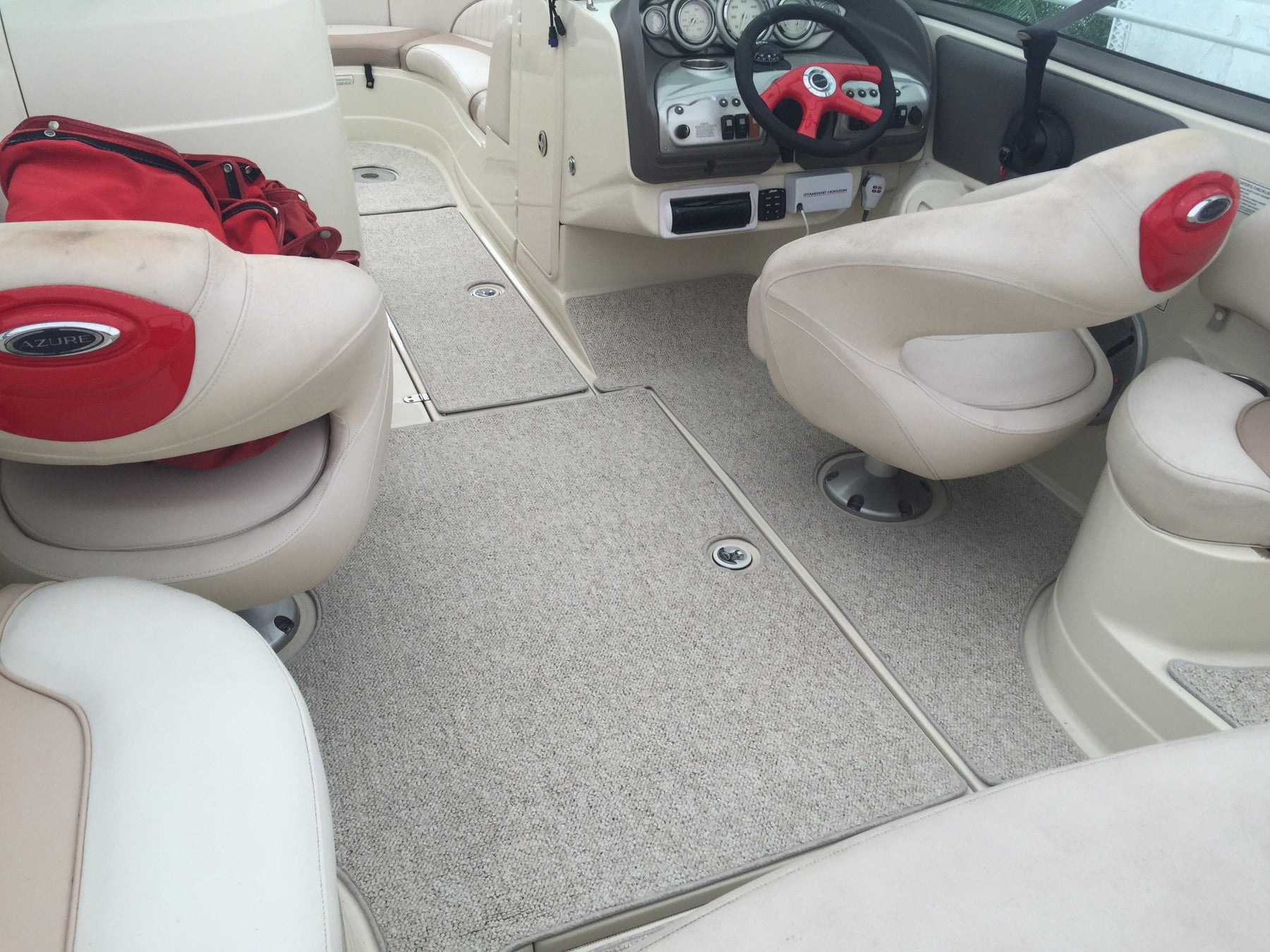 Available Cockpit Materials for this Boating Season
Trust Matworks to bring you the most technologically advanced flooring materials to install on your boat for years and years of boating pleasure! 
Matworks has thousands of OEM boat templates direct from the manufacturer so your template will fit every time beautifully. 
Marine Grade Carpet:
Our marine grade carpet is such a premium product that purchases come with an 8 year warranty on cockpit carpet and backing and lifetime warranty on binding (edging) and embroidery (if you have it on your cockpit). Most of the standard carpet colors are our most popular colors, such as the tans, greys, black and navy. You can see standard cockpit carpet colors here: Standard Marine Carpet Options
 Also available are the specialty colors such as red, royal blue and the teak style carpet. See the specialty carpet colors here: Specialty Marine Carpet Options
Duraweave Luxury Woven Vinyl Marine Flooring:
Another available option is our Duraweave line, which is the Luxury Woven Vinyl which is so wildly popular these days. The advantages to the Duraweaves are that they are waterproof, so not much drying time, fade & stain proof and are very attractive on the boat. 
We have 2 different manufacturers that we purchase from. They both come with a 10 year warranty and come in a huge variety of color options.
The specialty colors can be seen here: Specialty Duraweave Color Options
The standard Duraweave colors can be seen here: Standard Duraweave Color Options
And the gorgeous teak look colors can be seen here: Teak Style Duraweave Color Options
Please note that all the boat cockpit prices are for Standard Marine Capet, if you wish a quote on the specialty carpet or duraweave colors for your boat give us a call at 800-795-MATS (toll-free) or 770-663-0040 (in the greater Atlanta area).
Free samples (up to 6) can be ordered here: Sample Request Form