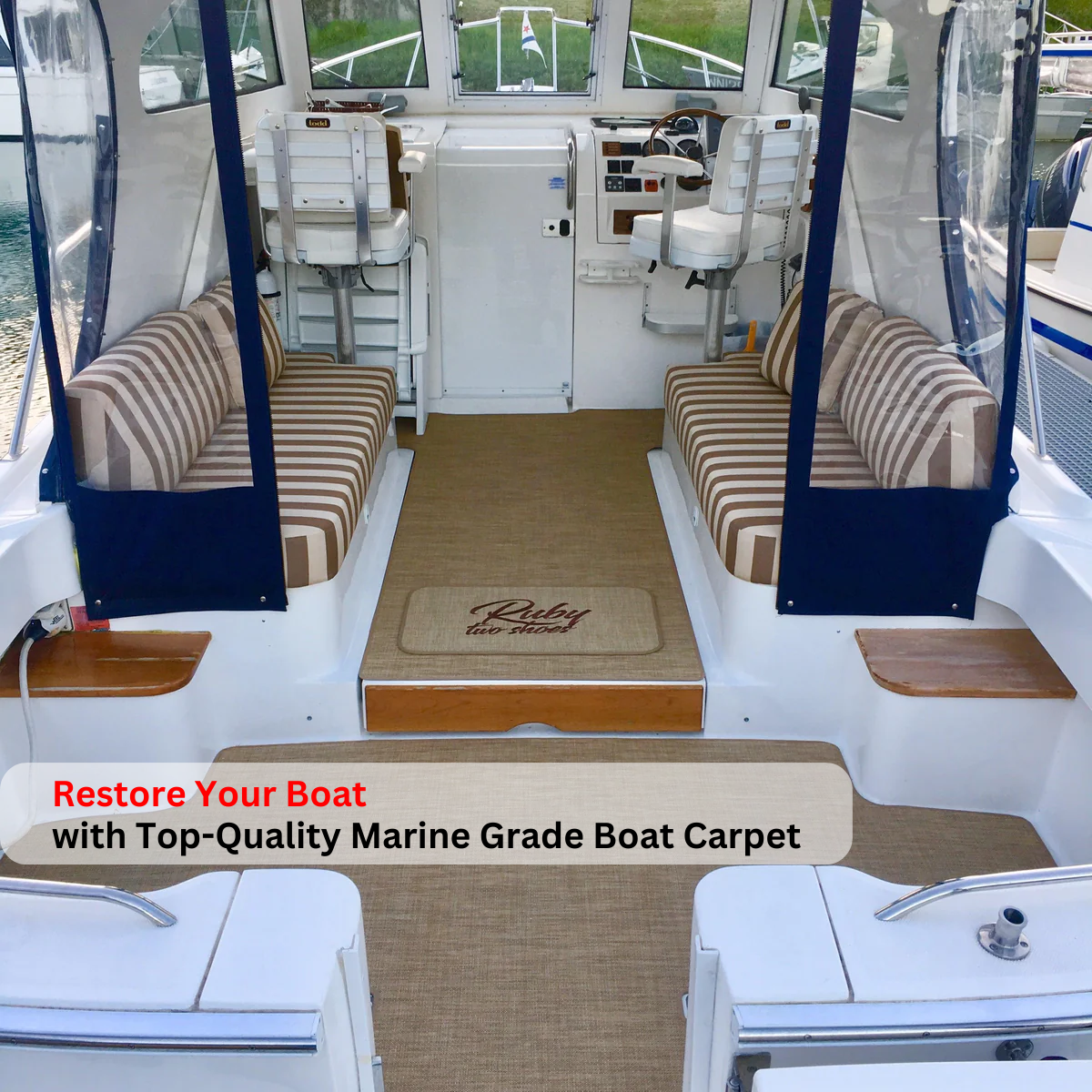 Boat Custom Carpet and Mat Replacement with Your Logo: Elevate Your Brand in Style
Boat Custom Carpet and Mat Replacement with Your Logo: Elevate Your Brand in Style
In the world of boating and marine recreation, one thing is certain: standing out from the crowd is essential. Whether you own a yacht, a speedboat, or a fishing vessel, the appearance and functionality of your boat say a lot about your taste and attention to detail. If you're looking for a way to enhance your boat's interior while making a bold statement, look no further. Our boat custom carpet and mat replacement service is the perfect solution, allowing you to infuse your personality, brand, or message into your vessel's decor.
Why Boat Custom Carpet and Mat Replacement from Matworks.com?
1. Uniqueness that Sets You Apart
In a sea of boats, standing out is paramount. Traditional boat carpets and mats might serve their purpose, but they lack the personalized touch that truly distinguishes your watercraft. Our custom carpet and mat replacement service gives you the freedom to choose designs, colors, and patterns that resonate with your brand or personal style.
2. Brand Promotion
If you own a business or charter service, your boat can be a powerful marketing tool. Imagine cruising the open waters with your company logo prominently displayed on your boat's interior. This not only helps with brand recognition but also conveys a sense of professionalism and attention to detail.
3. Enhanced Comfort and Durability
Boat carpets and mats often endure harsh conditions, including exposure to saltwater, UV rays, and constant foot traffic. Our custom replacements are not just about aesthetics; they are built to withstand the challenging marine environment, offering excellent durability and comfort underfoot.
The Customization Process
1. Initial Consultation
We start by discussing your preferences, ideas, and requirements. Whether you want to match your boat's colors, incorporate your company logo, or choose a unique design, we work closely with you to understand your vision.
2. Material Selection
Selecting the right materials is crucial for long-lasting quality. We offer a wide range of marine-grade carpets and mats, allowing you to choose the perfect combination of materials that suits your style and functional needs.
3. Design and Customization
Once we have your input and material choices, our design team goes to work, creating mock-ups and visual representations of your boat's new interior. This step ensures that you're entirely satisfied with the design before we proceed to production.
4. Production and Installation
Our skilled technicians bring your vision to life through precision cutting and installation. We take pride in our craftsmanship, ensuring that the final result is a perfect fit and finish that elevates your boat's interior.
Benefits of Boat Custom Carpet and Mat Replacement
1. Unmatched Aesthetics
Say goodbye to generic, uninspiring boat interiors. Our custom carpet and mat replacement instantly transform your boat's interior into a work of art. The personalized design and attention to detail make your boat truly unique.
2. Durability and Easy Maintenance
Our marine-grade materials are built to withstand the toughest conditions. Whether it's the scorching sun, saltwater exposure, or heavy foot traffic, your custom carpet and mats will continue to look great and require minimal maintenance.
3. Enhanced Comfort
Walking barefoot on your boat has never been more comfortable. Our materials provide a cushioning effect, making your boating experience more enjoyable and less fatiguing.
4. Brand Recognition
For businesses, this is a fantastic opportunity to promote your brand. Your boat becomes a moving billboard, spreading the word about your company and services as you sail.
5. Increased Resale Value
Should you decide to sell your boat in the future, having custom carpet and mats can significantly boost its resale value. Prospective buyers will appreciate the added touch of luxury and personalization.
Final Thoughts
Investing in boat custom carpet and mat replacement is more than just an aesthetic upgrade; it's a statement of individuality, brand identity, and quality. If you want your boat to be an extension of your personality or business, this is the perfect choice. Say goodbye to standard boat interiors and embrace a world of endless design possibilities. Trust us to deliver the custom boat interior of your dreams.
With our boat custom carpet and mat replacement services, you can sail the waters with style, comfort, and a touch of luxury. Your boat is not just a vessel; it's an extension of you, and it deserves to stand out in the best way possible.