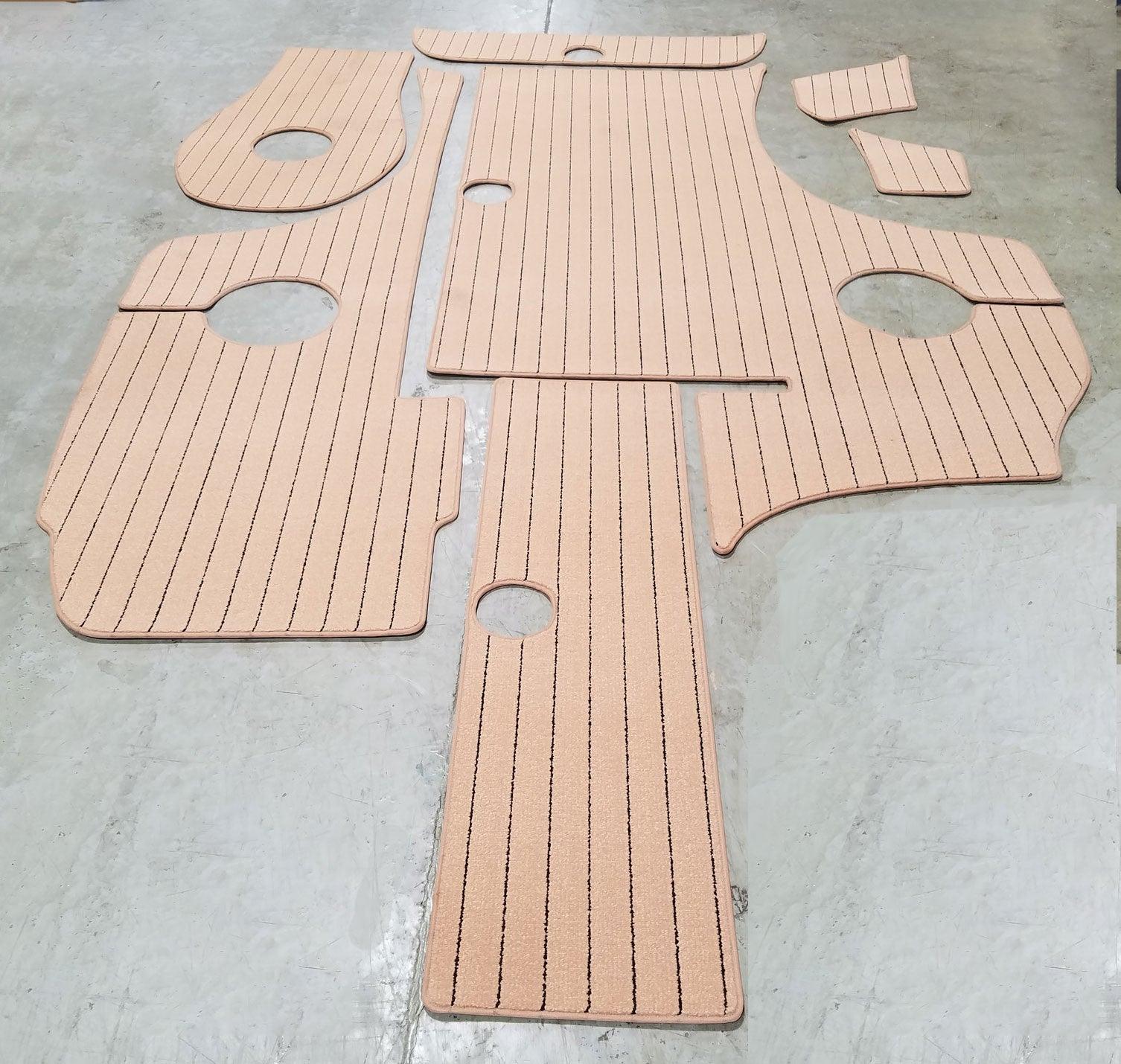 Marine Vinyl Flooring is all the rage this Season!
As a longtime industry leader, Matworks Ltd is always ready for this boating season with inventory of our Duraweave Marine Vinyl Flooring (comparable to Sea Grass). This type of marine floor covering  has become very popular. The companies that Matworks does OEM carpet for has been switching to this material as it is waterproof, stainproof, fadeproof-- pretty much "everything proof". If it is spilled on, a quick wipe up is all that is usually needed. It dries much more quickly than carpet. Regular cleaning can be a quick hose off, or if needed, Dawn dish soap (or similar mild soap) and a soft bristled brush can be used for anything that is dried into the weave of the mat. Check out currently available colors here:
https://matworks.com/pages/design-options-and-colors
We carry different priced options, as well as different designs and weave styles. Here is some additional information on the different styles we carry:
Specialty Duraweave and Teak Style Duraweave - Infinity Luxury Woven Vinyl

Infinity product is a very well-known and established company in the woven vinyl industry. We have been working with them for over 10 years and we have never had a problem or warranty issue. There are more styles to choose from in our Specialty and Teak Style Duraweave collection. The backing is a beige blown vinyl backing, and textured, which helps grip the floor. The backing is more dense, keeping most water on top of the material to run off or evaporate. This helps the material stay drier.
Standard Duraweave - Summit Marine Flooring

Summit Marine Flooring is a newer company in the woven vinyl industry. We brought them on as a lower cost option for the woven vinyl materials, however they are the most comparable to Infinity material we have been able to find. The backing is smooth and black blown vinyl backing (NOT RUBBER LIKE WHAT IS ON CARPET). The backing is a bit less dense. It will still dry faster than carpet, but more water can get into the backing, taking a little longer to dry than Infinity material. Many people wanted the woven vinyl look, but are not able to spend the money on Infinity product. We wanted to make this material available to everything, and still get a great product!

Both types of material are mold and mildew resistant and are a woven vinyl, so they are easy to clean and keep clean. Both have a 10 year manufacturing defect warranty.

We only carry material and work with manufacturers that we trust so we can always do our best to ensure each customer is happy with their order. 

As always, feel free to call for more info or for a quote for your boat carpet. If you do not see your boat on our website that does not mean we do not have it! We have many of our boat patterns in as part numbers from manufacturing OEM boat carpet (38 years and counting) and we are always adding new templates to our library. 
As we have blogged recently, Duraweave Luxury Woven Vinyl Marine Flooring is super popular this boating season!
This new alternative to marine carpet is waterproof, stainproof, fadeproof and along with looking gorgeous will last for many years. The vinyl has a foam backing and snaps in just like marine snap in carpet.  Matworks has 17 color options available for the Duraweave Luxury Woven Vinyl Marine Flooring or the marine vinyl can be special ordered if it is a color/pattern that we don't carry (at no additional cost).
 See all the colors here:
Luxury Woven Vinyl Duraweave Color Graphic
Enjoy these pictures from a customer's 2016 SeaRay Sundeck 270 Luxury Woven Vinyl Marine Flooring Duraweave Color #555 install.