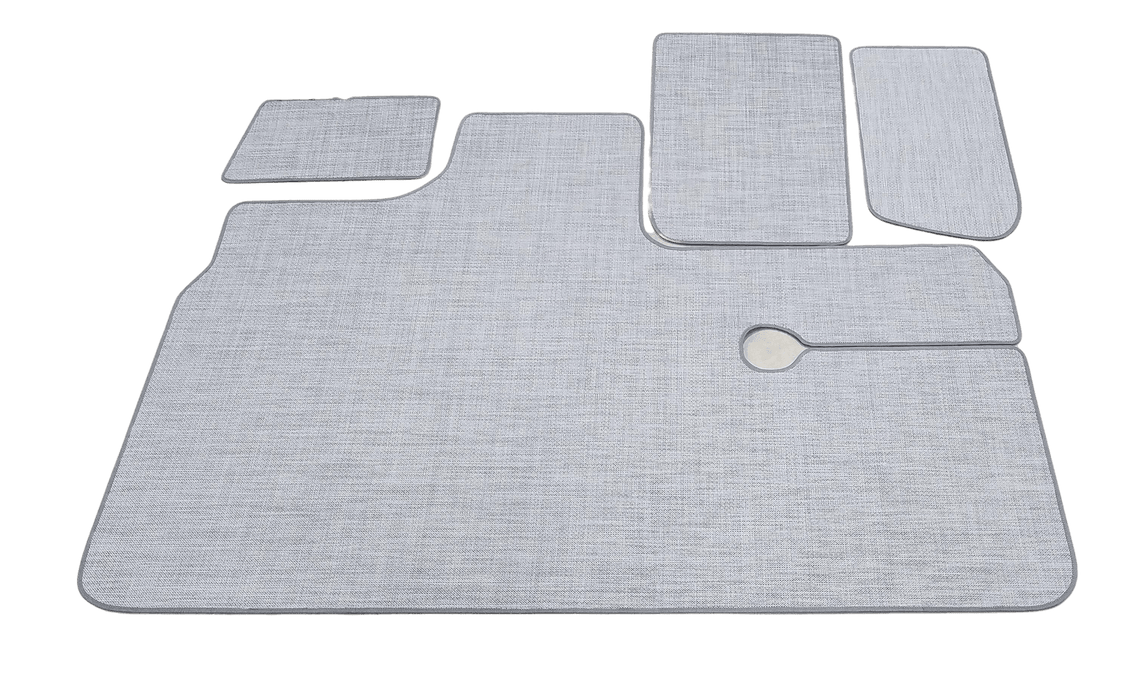 1994-1997 Sea Ray 270 Sundancer Snap in Boat Carpet
Original price
$ 675.00
-
Original price
$ 675.00
Delivery time
4-6 week to delivery
Special Note Snaps are provided but not pre-installed, allowing for customized placement on your boat. Install them to match the existing snaps once you receive your new mats.
IMPORTANT: All of Matworks cockpits are custom made at time of order; so therefore please check product pictures and measurements BEFORE ordering as material is not refundable or returnable for incorrect ordering. Please note that right click and copying functionality has been disabled so if you need a larger PDF to check your measurements please call 770-663-0040 to request the dimensions to be emailed to you. If measurements are not included as a product picture please call 770-663-0040 to request them. Every boat is slightly different so we allow for a tolerance level of up to 1/2 inch difference when comparing. As always, if you have any concerns questions at all make a template for your new boat carpet.
The premium 2000-2004 Cobalt 246 custom Snap-In Boat Carpet!
This marine-grade carpet is more than just a flooring upgrade; it's a statement of luxury and style tailored specifically for your Cobalt 246. Elevate your boating experience with this top-notch marine flooring solution that combines aesthetics and functionality seamlessly.

Custom Tailored Fit: The 2000-2004 Cobalt 246 custom Snap-In Boat Carpet is meticulously designed to integrate flawlessly into your vessel. It ensures a snug, secure fit that enhances the overall appearance of your boat.

Premium Materials Crafted from high-quality marine-grade materials, this boat carpet can withstand the harshest marine conditions. It's resistant to UV rays, mold, mildew, and water damage, guaranteeing long-lasting durability.

Exceptional Comfort: Enjoy superior underfoot comfort and reduced noise thanks to the plush and soft texture of our custom boat carpet. It's perfect for lounging, fishing, or entertaining guests on board.

Easy Maintenance: Keeping your boat's interior clean has never been simpler. Just snap out the carpet, hose it down, and let it air dry. Our boat carpet is designed for hassle-free upkeep, allowing you to spend more time enjoying your boat.

Enhanced Aesthetics Elevate your Cobalt 246's interior with a variety of stylish color options and patterns. Whether you prefer a classic nautical look or a modern, vibrant style, our custom boat carpet complements your boat's design.

Secure Fit: The snap-in design ensures your boat carpet stays securely in place even during high-speed maneuvers, providing peace of mind as you navigate the water.

Longevity: Built to withstand the test of time, our custom boat carpet resists fading and wear, maintaining its beauty and functionality season after season.

Easy Installation: Installing this snap-in carpet is a breeze. Simply snap it in place, and you're ready to hit the water in style.

Invest in the best for your 2000-2004 Cobalt 246 and make a statement on the water. Elevate your purchase intent by upgrading to our custom Snap-In Boat Carpet. Cruise in comfort and style like never before. Experience the perfect blend of luxury and functionality on your boat today!
Elevate your boating experience with our premium product - the 1994-1997 Sea Ray 270 Sundancer Snap-In Boat Carpet from Matworks. Crafted with precision and designed to fit seamlessly into your vessel, this custom snap-in carpet brings both comfort and style to your boat's interior. Its durable construction withstands the rigors of marine life while providing a soft, inviting surface for passengers to enjoy. The precise fit ensures easy installation and removal for cleaning, making maintenance a breeze. Enhance your boat's aesthetics and enjoy the luxury of a perfectly fitted, high-quality carpet that complements your Sea Ray 270 Sundancer.
PDF TEMPLATE INSTRUCTIONS: Click Here for custom instructions for snap-in carpet
FOR MATERIAL SPECIFICATIONS: CLICK HERE